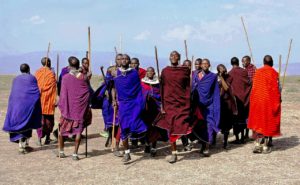 An Overview of the Impact of Covid-19 on sub-Saharan Africa. Much of the attention on the COVID19 pandemic has focused on Europe, the US and China with the greatest number of deaths in Europe and the USA. However, Africa, the largest continent, has remained relatively untouched by COVID19 with very low fatalities. There may be many reasons for this, but one important consideration is that the majority of deaths in Europe and the USA have been elderly people in care homes and also in those with pre-existing health problems. Sub-Saharan Africa has one of the youngest populations in the world, with 1 in 4 people under the age of 25 coming from this region.
Nonetheless the Covid-19 pandemic has had a big impact on the continent, with most governments enforcing some form of lockdown, social distancing, mask wearing and other measures in response to the disease. Many experts, including the World Health Organization (WHO), feared that Africa could become a new hot spot for the disease and projected hundreds of thousands of deaths. So far this has not happened. In comparison with much of Europe, North America and even South America, sub-Saharan Africa has remained relatively unscathed. Even though the WHO advocated for the same lockdown strategies as elsewhere, the reaction of African countries has been very different, ranging from the strict lockdown in South Africa to very mild voluntary social distancing and open borders in Tanzania. The reality is that in most African countries, where people live close together and village life relies on the ability of people to work and socialize together, the types of lockdown seen in Europe and North America are not possible and have not been enforced.
There is speculation about the true number of deaths due to COVID19 all over the world. Some say numbers are greatly understated, and there is ongoing analysis of what percentage of "excess deaths" in a country are due to COVID19. Other analyses say the numbers have been over inflated as people are dying with COVID19 and not from it. In other words, many people have multiple morbidities and at the best of times it is not easy to know what the actual cause of death is, especially for the elderly. Tests weren't available even in Europe and the USA early on, and this is the same for much of Africa now. Also, as Covid-19 symptoms can look like the seasonal flu in some patients, clinical symptoms alone are not always reliable. This hasn't stopped doctors in the USA and Europe following the WHO directive that deaths suspected of COVID19, even if tests are inconclusive or not available, should be recorded as a COVID19 death.
Africa does not have the culture where a large number of elderly people are housed in care homes, therefore this "hotspot" environment which affected so many in Europe and the USA is not part of African life. Many of the elderly people in care homes in Europe and the US were also on drugs for conditions such as hypertension, diabetes and high cholesterol and there is evidence that these drugs may adversely affect COVID19 patients due to the ACE2 inhibitor effect. These external factors also need to be considered in evaluating the reasons for higher mortality rates in certain countries.
Overview is for a select number of countries in Africa:
South Africa: Population 59 million: 705 Deaths. 12 deaths per million people.
Strictest lockdown on the continent. Currently on Level 3 after two months. Level 1 is the lowest level. Businesses now working. People are free to leave house anytime. Curfew in evening still in place. Schools due to open but much fear and resistance. Borders still closed. International flights will not be allowed until Level One. Alcohol and cigarettes were banned. Only allowing them now.
The country complains of a lack of testing kits. Questions that richer countries are keeping all the kits are being floated. China is now promising to send millions of kits.
Serious socio-economic consequences. Millions hungry, lines stretching for miles for food. Profound limitations on all movement. 100,000 companies may fold. Seven million jobs maybe lost. Government has already had to borrow $20 billion from IMF and World Bank.
WHO said it's too early to release from Level 4 to Level 3 but political consequences too dire.
As of June 3rd, the Pretoria High Court stated that while declaring the State of Disaster because of COVID19 was rational, the overwhelming number of regulations are "unconstitutional and invalid." The government has 14 days to answer the court.
Eswatini/Swaziland: Population 1.2 million: 3 deaths. 2.8 deaths per million people
Landlocked country between South Africa and Mozambique. All borders closed for two months. 3 deaths, all over age 50 and diabetic. Vast majority of cases not serious.
Enacted partial lockdown in April, released and reintroduced partial lockdown at end of April. Ended partial lockdown May 10th. Compulsory mask wearing now in public places and when in company of others. Social distancing enforced. Police taking temperatures on roads, stopping traffic, especially "comby" taxis. During partial lockdown only essential services and travel allowed.
Serious socio-economic impact. King of Eswatini has asked United Nations for financial assistance, including suspension of debt service obligations and interest payments. Many small businesses suffered. Food distribution happening, but somewhat sporadic and not enough supplies.
Traditional healers taking herbs to WHO office for research and being sent away.
Mozambique: Population 31 million: 2 deaths. 1 death per 15 million people.
Borders are closed except for food transportation to South Africa
Level 3 state of emergency enforced till June 30th. No schools open, government offices mostly closed. No cultural, sport or recreational activities in public spaces. No entertainment etc. Facemasks to be used in public spaces. Beaches are closed except for fitness purposes.
Markets are open in the day
Strict quarantine measures in place. All people arriving in Mozambique should self-quarantine for 14 days.
All international flights are suspended.
Tanzania: Population 59 million: 21 deaths. 1 death per 3 million
Borders are now fully open. Tanzania did not extend lockdown in the country. Basic social distancing and some modifications were made but otherwise, life continued as normal.
President Magufuli was criticized by the WHO and others for not enacting lockdown. He refused to comply. He said the impact on the country would be too great. Criticism came from some quarters, including the opposition that the numbers of cases were being understated. Given the political dimension of the situation and the fact that he directly contradicted WHO guidelines, it is hard to know what is really true.
He sent sample taken from animals, car oil and paw paw to be tested for COVID19. Some came back positive. He sacked some people for this and it brought to question the accuracy and legitimacy of the tests being provided.
It is estimated 400,000 people in tourist industry may have lost their jobs with a 76% drop in employment. 1.9 million tourists were expected to come to the country which they think will be down to 437,000 for the year.
Kenya: Population 53 million: 69 deaths: 1.2 deaths per million people
Kenya enacted strict lockdown from the end of March. However, they were letting flights into the country from China till mid-March.
Curfew has been in place for over 6 weeks. Movement between many areas of the country not allowed. Domestic and foreign flights stopped.
Quarantine centres established. Controversy over the standards of accommodation in these centres. Two lawsuits have been started over alleged mistreatment in these centres. People are being kept longer than the 14 days of quarantine. Reports of people being charged for accommodation and food while in quarantine and unable to work.
It is stepping up public testing for the virus. However, people are saying that unless you have a test showing you are negative, you cannot get a job.
Evidence of serous police brutality. Over 20 people killed by police during curfew hours. Bribes and extortion are common. No courts functioning so justice is meted out in the street.
Riots and mad scrambles for food were seen when food distribution was attempted in some of the largest slum areas of Nairobi. Many were injured.
Research into some herbal treatments for COVID19 using Kenya Medical Research Institute (KEMRI) to do the research.
Malawi: Population 19 million: 4 deaths: 1 death per 5 million people.
All deaths were elderly or had serious health conditions.
Government tried to impose national lockdown but local Human Right Defender Coalition (HRDC) stopped the lockdown with a court injunction. Argument was that the government had not prepared the country and especially poor people for the consequences of lockdown. The government didn't even send lawyers to defend their position. Pressure for lockdown was coming from the WHO. It is election year and government afraid of antagonizing Civil Society groups and general population. Case is still due to be heard in the constitutional court.
Most life goes on as normal except schools are closed. They are due to open. Private schools want to open, public schools want to stay closed.
Malawians returning from South Africa put into quarantine. However, some escape. Some refuse to be tested and prefer quarantine. They are afraid of the stigma of being tested positive. (Echoes of HIV). They think the virus is deadly. Some people are testing positive but having no symptoms.
Zambia: Population 17 million: 7 deaths: 1 death per 2.5 million
Zambia embarked on a partial lockdown strategy although it closed its borders to Tanzania on May 10th after a spike in cases was seen.
International flights were stopped at the end of March. Quarantine procedures were put in place with government centres created for all people coming into the country.
In February, US Centre for Disease Control put in testing capacities in Lusaka.
Churches have been open, while observing social distancing and salons and barber shops are also open. Bars remain closed.
Increased testing is taking place and surveillance at points of entry. Masks need to be worn in public spaces.
The economic situation is extreme as copper prices are very low, which is the major export in Zambia. Attempts to stimulate local farming are taking place, and some financial incentives are being given.
Nigeria: Population 205 million: 299 deaths. 1 death per 7 million
National government enacted lockdown strategies, but each state employed it differently. State governments now pushing for relaxations although federal government is reluctant to move too fast.
Lagos state including the city of Lagos with over 20 million people has registered over 5,000 cases. Food packages were planned for the city but have had practical challenges in being implemented. Life for many people in Lagos is a struggle. Any lockdown only compounds this.
Passenger flights cancelled and face masks are compulsory. Other social distancing measures are in place.
Police brutality has been common, including a number of deaths
President Buhari has asked for a loan of $3.4 billion even though it is one of the largest oil producers in the world.
Democratic Republic of Congo: Population 90 million: 72 deaths: 1 death per 8 million
The largest territory in Africa. Only 72 deaths.
There are serious ongoing security and humanitarian issues in much of the country. In that respect COVID19 is not a significant factor unless it is taking resources away from dealing with the other more immediate humanitarian concerns.
UNICEF has been working in various parts of the country in setting up medical, sanitation and other supplies.
An Ebola outbreak was just announced in the country.
In many rural areas, as in most African countries, no real changes of behaviour have taken place. A lack of supplies, education and the necessities of rural life make any kind of social distancing impossible. Also, the fact that there are so few deaths of COVID19 in a country that is so huge and has so many other problems, makes any strategy here seem irrelevant.
But civil society organizations have been working to bring awareness of COVID19 to the people in DRC as many people feel it is just the government making trouble for nothing.
Catholic charity workers from the organisation Caritas are being told to "get out of here and leave us in peace", as they tried to educate people about COVID19. Indifference or disbelief about COVID19 runs deep in Kinshasa. Three workers were threatened at knifepoint as negativity rose towards virus campaigners. Comment: Most people in DRC have more immediate problems related to feeding their family than being concerned about social distancing and wearing masks.
Uganda: Population 45 million: 0 deaths
The country enacted a fairly strict lockdown with a curfew from March 18th.
Borders were closed. Reports of police beatings were common. All flights and public transportation were suspended.
From March 18th, all public meetings were banned. A curfew was imposed from March 30th.
Quarantine was imposed but complaints were heard that 14 people were forced to spend $840 on hotel expenses for the quarantine period, with others sleeping in hallways and not having access to showers.
Ghana: Population 31 million. 38 deaths: 1 death per 900,000
On March 15th a fairly strict lockdown was initiated. Public meetings etc were banned and schools and universities closed.
On March 11th the President had declared the equivalent of $100 million to be available for the COVID19 pandemic, but then was unable to procure the funds, causing criticism in the country.
In April, the government passed a new law giving them extraordinary, draconian powers during the crisis. This caused concerns in many circles that the situation was being abused by the government as emergency regulations already existed.
As of June 5th, restrictions will be eased although schools and colleges remain closed apart from final year students. Students, teachers and other staff will be supplied with reusable masks. Weddings with not more than 100 people can be organized.
Most social isolation behaviour is being maintained in large cities. Outside of urban areas, people's lives remain more or less normal.
Ethiopia: Population 114 million: 14 deaths. 1 death per 8 million
The country imposed partial lockdown restrictions from March 20th, and on the 23rd, all land borders were closed. Ethiopian airlines suspended flights to more than 80 countries on March 30th and is running at 10% capacity.
On April 8th, a 5-month state of emergency was declared. Further travel restrictions were imposed in some states after more cases were found.
In Oromia, a complete ban on all public transportation was imposed after two people tested positive.
Many cafes and restaurants were closed, but it differed in various states in the country.
Many prisoners on short imprisonments of less than 3 years were released as a precautionary measure.
An estimated 3% drop in economic growth is anticipated. 150,000 workers in the flower industry may lose their jobs and the national airline lost $550 million in the first four months of the year.
Madagascar: Population 27.5 million: 6 deaths. 1 death per 4.6 million
Imposed a partial lockdown in the two main cities and the national bank injected the equivalent of tens of millions of $ into the system to ease the economic damage, especially to the tourist industry. Decided to go it alone after WHO criticised use of an Artemesia based herbal preparation as a preventative/immune support. Supplying several other African countries with the product.
Burundi: Population 12 million: 1 death. 1 death per 12 million
Expelled WHO team advising on COVID19 response, not imposed any measures related to COVID19.
First Lady said to be in Kenya receiving treatment for COVID19.
Senegal: Population 16 million: 70 deaths. 4 deaths per million
Protesters in Dakar set tyres on fire and threw stones at security forces over a nationwide dusk to dawn curfew imposed nearly 3 months ago, along with a ban on inter- regional travel. Similar demonstrations happened in the holy city of Touba.
Overall outcome for Africa
Overall, 4,344 deaths have been attributed to COVID19 in a continent of 1.2 billion people (as of June 2nd)
According to the Executive Secretary of UN Economic Commission for Africa, an estimated $69 billion has been lost in African economies since the crisis began with a deepening of poverty. Forty-two African countries went into some form of lockdown. A serious decline in remittances being sent back to Africa, most tourism devastated, and the aviation sector set to lose $6 billion. Predictions are that there will be a rise in inequality, already a major challenge for most African countries.
According to the Africa Centre for Disease Control and Prevention, COVID-19 cases across Africa have surpassed the 150,000 mark, with the death toll exceeding 4,000 and escalating (note: the Africa Centre For Disease control is funded by, and partner to, the Bill and Melinda Gates Foundation, the Coalition for Epidemic Preparedness Innovation (CEPI) also funded by BMGF, The Global Fund, UKAID and others.)
Many countries are planning to reduce the lockdowns and yet, even with the dire economic projections, there is a reluctance to lift them too soon. The WHO and others have commended countries like Kenya and South Africa on their strict strategies so the political will is not there to lift lockdowns too quickly.
There is a feeling that there would be more support for testing and not on maintaining strict lockdowns.
Africa is testing 1 million people each day, there are suggestions the target should be much higher.
Conclusions
For all the hype about COVID19 impacting Africa it has not happened so far: 4,340 deaths in a population of 1.2 billion.
5 million people were infected with TB in the African region in 2016, about one quarter of all TB cases. 417,000 died from the disease that year (413,000 more than COVID19). 40% of HIV deaths are due to TB. TB is highly infectious, spread the same way as COVID19. These are WHO figures. Why are they not imposing mask wearing and social distancing for TB?
In 2017, there were about 219 million cases of malaria worldwide. Most of these were in Africa. Over 400,000 deaths occurred in 2017 in Africa.
Millions die every day of many diseases in Africa. COVID19 is not as much a threat as many other diseases.
Ongoing socio-economic challenges in large parts of the continent lead to widespread macro and micro nutrient deficiencies. Ongoing social inequality and unemployment afflicts many countries. 1 in 4 young people under the age of 25 live in sub-Saharan Africa.
The WHO has supported and complemented African countries in their lockdown approach to COVID19. Why would they do that when the obvious consequences of the lockdown are devastating for many millions of people, much more than in Europe or the US? It may take a generation for many African countries to recover.
Lockdown may kill many more people than it saves, many people have had no access to medical care and other services during this time.
Why would the WHO continue to recommend lockdown when it seems clear that there is no widespread outbreak of the disease anywhere on the continent? They will argue that the lockdown worked. But other countries that didn't lockdown, e.g. Tanzania, Sweden and Japan have not shown higher numbers of cases in general. There must be some other reasons why certain countries are being affected more than others. Is the WHO looking into this or is it suiting them to still advocate for ongoing lockdown measures, even in South Africa?
The highest mortality rates in Europe and the US are in elderly people, mostly in care homes. This has been known for quite some time. The vast majority of young and healthy people remain relatively unaffected. Africa is a young population and unlikely to suffer serious cases of COVID19. Why then lock them up? Why not protect the vulnerable and let others live normal lives – especially when so many people are dependent on a day to day income?
Widespread testing brings its own challenges. Many in Africa have already suffered the stigma of HIV/AIDS where testing positive was the equivalent of a death sentence. Often alienated from their own communities and told that they had a life-threatening illness even if they were healthy. The use of tests for COVID19 may have a similar impact unless education is done to avoid the stigma. Widespread testing in large African countries is also very challenging. It may waste precious resources that could be spent elsewhere and just instil more fear. Already in Kenya testing negative is necessary to get a job.
Increased testing also creates the impression that the situation is worsening, but more testing and therefore more cases does not mean there is a health crisis. Testing is only testing. Numbers are being manipulated to justify continuing lockdown.
If the disease is slowly ebbing away, then widespread contact tracing will not work. It can also be abused by authorities to force people into quarantine and other draconian measures. Testing positive does not mean serious illness and there are challenges with the accuracy of the results. In an African context suppression of the disease is extremely hard to do when many people live together and social isolation is a huge challenge. If the disease is simply not that serious for most people, all the effort of a contact/tracing strategy may do more harm than good and waste precious resources.
Africa needs to have African solutions. Simply conforming to the dictates of organizations like the WHO and the African CDC do not necessarily serve the interests of the African people.