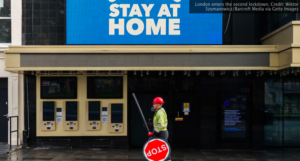 CovidWatching has said consistently that UK govt policy is not led by science. Their recent announcements that have led to parliament's vote for a second lockdown is their most egregious yet. The Chief Scientists' prediction of 4-6,000 deaths a day by December was used to terrify the public, and presumably parliament – and revised down to 1,000 daily deaths just two days after lockdown 2 had been imposed. Of course every death is one too many, but lockdown also exacts a very high price, including associated deaths, and is starting to eclipse those caused by COVID19.
BBC Radio 4 presenter, Timandra Harkness, had this to say on UnHerd. It's worth reading in full.
If Government policy of this magnitude – and directly responsible for the myriad ways lockdown negatively affects the population –  is based on flawed data that in turn is retracted within days, and yet the lockdown is not, then surely even those who have continued to trust the government, despite what seems to have been their gross incompetence, must now ask a different kind of question?
What is the rationale for further damaging the country and its people at every level, if the data is so deeply flawed and the Chief Scientists and SAGE are cognizant of the fact?
Save